As previously blogged, I'm doing Inquiry-based learning with my Year 11 Information Processes and Technology (IPT) class. Our topic now is Analysis and our focus question is "What price a dream?".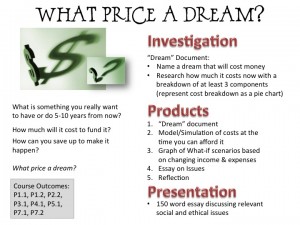 The class has been working on this for a few lessons now and yesterday I asked if they felt they were learning. One responded with "Not much". I didn't take offence because it is literally better than "nothing" (what they used to say until I got them to reflect regularly, i.e. stop long enough to think of what they have learned). Besides, the relevant syllabus content really isn't difficult; if I were to teach it lecture-style, I would cover in 1 lesson, what has taken us 4, so far.
Anyway…..
I got thinking…..
and this is what came of it…..
I started the lesson with this on the board:
Inquiry-based learning
contextual (inquiry)
self-directed
personalised
I told them that when I started, I found them unmotivated and disengaged (also mentioned in my Inquiry-based Learning post). I mentioned that doing Inquiry would perhaps get them engaging more with the content. So the first one was on Cloud Storage and this one now on a life dream for Analysis. Many students nod at this stage realising that indeed they engaged with the syllabus content within the said contexts as well as that their inquiry journeys were largely self-directed and personalised.
I then drew this, explaining as I went:
For all those examples, I named names. I identified students who were showing learning the syllabus, extending their learning, and even abstracting. Seeing individual faces light up as their little gems were acknowledged is priceless!!! (#youmatter) As it turned out, students loved these "shout-outs" (as they call it).
It's probably best to just "quote" myself here:
If you think you haven't learned much, it's because you haven't pushed yourself enough. My job as a teacher is not to just tell you about things but to give you contexts for learning, opportunities to learn, challenge you and give you feedback. Self-directed learning requires discipline and motivation.

I'm here. Are you asking enough questions? When you ask questions, I answer back – often with a question. But, I meet you where you're at. Some of you work harder than others, and that's ok. And those of you who've sought my feedback have learned more.

So, are you asking enough questions? Because really, if you're curious enough, there is no limit to what you can learn."
To be honest, I lost a few along the way but many stayed with me through my mini speech cum reflection cum challenge. One even applauded. Not surprisingly, it was the one who said 'not much' yesterday; and today, he got more than he ever expected to learn in an IPT class. In fact, he even asked if I had different approaches for different classes (sounds familiar, yes?) I answered him and added, "Inquiry seems to be working best for me and that means this class". One of these days, I will post about the "how" I'm doing this with my year 11s.