I am such a big fan of Grok Learning and NCSS Challenge. It's been an integral part of my teaching Information Software and Technology (IST) since 2013. Every year, the challenge is the foundation of my assessment tasks so my IST Scope and Sequence always has Software Design and Programming in Term 3 when the challenge is on. Though the foundation is the same, each task is different and over the years, I've explored many of the features provided. (Read what's new this year from Grok Learning's blog).
Apart from enjoying learning fundamentals of programming as well as coding in python, I really want my year 9 IST students to be more aware of, and appreciate:
growth in their learning
diversity in solutions
personal relevance of computational thinking and coding
In other words, I want deeper learning. I decided to plan this slightly differently using my two go-to PBL-planning frameworks (1) student-friendly format from Bianca and Lee Hewes, and (2) teacher-programming familiar format from Setting the Standard for PBL: A Proven Approach to Rigorous Classroom Instruction.  This is a similar approach to another unit I loved – Delta X (my X + CS project with year 11 Software Design class).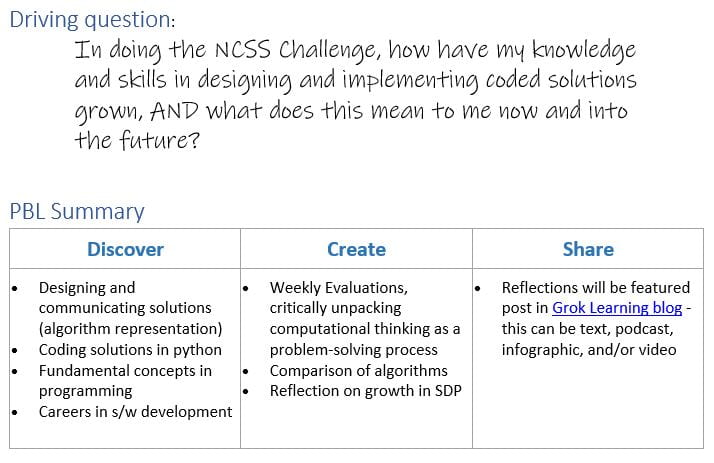 Thank you Grok Learning for agreeing to feature my students' work, providing an authentic audience 🙂
I've not had a chance to make it all pretty. I decided to share now in case others doing the challenge are looking for ideas to use it in their assessments this term. I'm using a class OneNote notebook (I'm also a big OneNote fan) but have PDF'd relevant details, including literacy/writing scaffolds, to share as well. The textbook referred to here is by David Grover et al, it is a good reference to augment the notes from the challenge, and it aligns well with NSW's syllabus.
[embeddoc url="https://malyn.edublogs.org/files/2019/07/2019-9IST-NCSS-Challenge-plan.pdf" download="all" viewer="google" ]
I think it's pretty self-contained but happy to clarify if needed.
Suggestions for improvement are also welcome! Even if it's too late for me to change this year, there's always next year 🙂