I'm struggling a bit getting ready for the new school year. So many distractions and I'm not fighting very hard to win (read: losing).  I've said before that I love planning (I over-plan). Feel organised = Feel prepared = Feel calm; except calm isn't a word generally associated with me. haha.
I don't feel organised. I don't feel prepared. I don't feel calm. I feel jet lagged (just lost your sympathy then, eh?).
Actually, I feel excited BECAUSE I start a new teaching role. This time 'round, I'll be with TAS (Technological and Applied Studies) rather than Maths. Full teaching load and no official tech integration duties. It's at an independent girls' school and I'll be teaching mandatory Technology in years 7 and 8, Info and Software Tech in years 9 and 10 and Info Processes and Tech in years 11 and 12. I'll be teaching years 7-12! Big focus on Design and projects.
That's why I'm excited.
I was wrong to say that I'm not teaching Maths this year because there's actually a lot of maths in the subjects I'm teaching. The big difference is that now, the maths will be in context and applied….the way I want to teach maths.
That's why I'm excited.
The TAS curriculum has core content with several options to apply the core content via projects. What this means is that PBL becomes the natural pedagogical choice (for me, anyway) as pre-cursor to the assessed project work. And yes, I distinguish between project-based learning and project-work.  PBL becomes the norm.
That's why I'm excited.
I've never taught mandatory Technology before. My rotation will involve Digital Media but mostly it's Textiles. How cool is that? I get to bring in my interest in colour theory, design principles and sewing.
That's why I'm excited.
It's all new really and there's so much to learn.
That's why I'm excited.
Now if I can just channel some of this excitement into focusing to get organised….
But wait, let me share these photos with you first: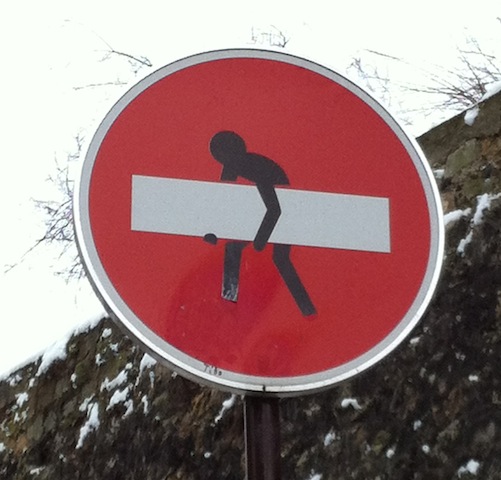 I spotted this sign in one of the back streets in Montmartre, Paris; in the residential side, not in the tourist hub.  It took me a while to figure out that the sign was your usual no entry sign but had been altered in a more fun way, I think. Granted, it looked to be a completely different sign, e.g. different meaning BUT I just fell in love with the artistic approach to defacing the sign (if you can call it that).
Also in Montmartre, I spotted this lamp post with emoticons on the glass panels.
Can teaching be approached the same way, i.e. seek different perspectives, enjoy the unusual (every student is an individual, after all), maybe inject a bit more art and fun, maybe dare go where I've previously not dared?
Now, that's exciting.