I'm so proud of my year 9s for hosting a fantastic Game On 2014 event – I daresay it was better than Game On 2013!
Some things stayed the same: the platform (arcade or studio on web Scratch), the coders (9IST students, except last year I also got the year 10s to do it so they could experience it), the venue and schedule (lunch towards the end of the school year). I invited again many teachers from other schools to get their students to play. Food. Prizes – still to be won by writing games reviews. The PBL itself was very similar to last year (here's a link to my intro lesson) including the inspiring TED talk on games by Jane McGonigal. She wished us luck 🙂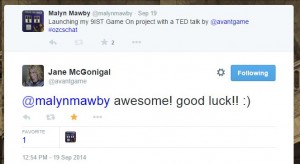 Some things were different: I managed to get  our school 's year 2 students who are also learning to code to also play and review games – that's pretty cool. Many of the my students wrote 2 games so even though there were technically fewer developers, there were just as many games as last year. We also had a different sponsor – Atlassian (Thank you!!!)
Another big difference is that I got my students to do more, i.e. write request for sponsorship, get approval for the event, plan the menu, take photos, solicit game reviews and even write an article for the newsletter.  So apart from being game designers and developers, they've had a taste of event management. After all, it was like a product launch 🙂 They felt accountable to Atlassian, to me, to players of their game and ultimately, to themselves. They took ownership of the event and they should be proud (as am I).
Well done 9IST and thank you for making Game On 2014 a fantastic event!
Here are some pics from the event (all half hour of it!):
Even with delegation, this is a big event that takes time and effort especially during a busy time of the year. . BUT, it is worth it. Here's an insightful article written by one of my students, Harini Lakshminarayanan (with permission):
Year 9 IST 2014 – GameOn for the Shuttle
and I quote:
I believe this event was a great opportunity to understand the success behind each IT product. This event has given all the year 9 IST students an insight into how IT works in the real world as it is more about the success among the user and the suitability of the product to users.
Come and play : bit.ly/ABBGO14 – you don't need a Scratch account to play unless you want to comment or better yet, make your own.